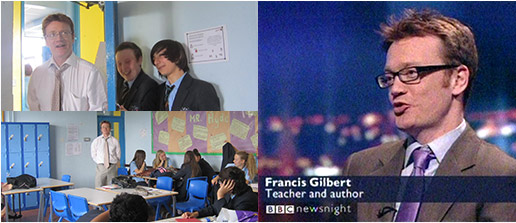 My writing
My books include the best-selling I'm a Teacher, Get Me Out of Here. I write extensively for the national press, and have appeared on TV and radio alongside everyone from Johnnie Walker to Russell Brand. I am well-known for being an honest and hard-hitting voice in the media.
FGI Publishing
I run a publishing company, FGI Publishing, which publishes cutting-edge fiction and non-fiction, including my own study guides and Roger Titcombe's Learning Matters. If you are interested in submitting a proposal or want to know more, please look here or email sir@francisgilbert.co.uk
Cyber-me
I blog for The Local Schools Network, and for Mumsnet on Tales Behind The Classroom Door. I have also set up a number of educational blogs which can be found here. My YouTube channel contains videos I've made for my students. On Twitter, I'm wonderfrancis and my personal email is sir@francisgilbert.co.uk, while email for FGI Publishing is sir@francisgilbert.co.uk
My background
I studied at Sussex & Cambridge universities, before doing an MA in Creative Writing at the University Of East Anglia under Malcolm Bradbury and Rose Tremain. Since then, I have taught in various state schools for over twenty years and now am a Lecturer in Education at Goldsmiths, University of London.