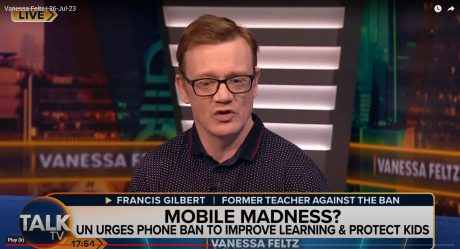 My writing
Having produced mostly educational journalism and books for many years, I now focus upon publishing academic articles and creative writing. I have written extensively for the national press, and have appeared on TV and radio alongside everyone from Johnnie Walker to Russell Brand.
My profile
I continue to appear on TV and radio, with my most recent appearances being with Vanessa Feltz on Talk TV. Often I am invited on various shows to defend creative, caring approaches to education.
My YouTube channel contains videos I've made for my students over the years. On Twitter, I'm @wonderfrancis, on Instagram I am spinozasgarden and my personal email is sir@francisgilbert.co.uk. Since 2015, I have focused upon publishing academic articles, many of which can be found on my Goldsmiths' webpage here.
My background
I was a school teacher for many years, but always dreamt of becoming a 'proper' writer. This dream, to a certain extent, came true after the publication of I'm Teacher, Get Me Out of Here (2004) much journalism and other books followed during the ensuing decade while I continued to teach. However in 2015, I hung up my school-teaching boots and became a full-time academic at Goldsmiths, where I currently am a Senior Lecturer in Education. I am Academic Director of the Connected Curriculum and Head of the MA in Creative Writing and Education.
July 2023