Romeo and Juliet: The Study Guide Edition out now in paperback and Kindle!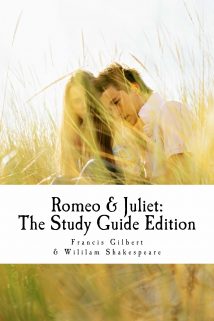 Kindle edition:

Paperback edition:

You can buy Romeo and Juliet: The Study Guide Edition in paperback or Kindle.
"Clearly Francis Gilbert is a gifted and charismatic teacher," Philip Pullman, author of 'Northern Lights'.
"Gilbert writes so well that you half-suspect he could give up the day job," The Independent.
"A great teacher," Jeremy Paxman on BBC's Newsnight.
Are you struggling to understand Shakespeare's classic play 'Romeo and Juliet'? Are you a teacher who needs a really good edition of the play which will enable students to understand the play's complex language and cover all the key areas required to get a good grade in an examination or coursework?
This brilliant edition of Shakespeare's great love story may be the answer to your prayers. Written by a teacher who has taught the text for more than twenty years in various secondary schools, this version is aimed at students who must analyse the text in depth or teachers wanting to deliver outstanding lessons on it. The book contains the complete text together with a parallel modern translation, which most students will be able to read independently or in small groups: the language is entirely appropriate for ages 11-18 years.
The text is broken up by exercises on every important section of the play, with fill-in-the-gaps tasks to check understanding, questions to aid in-depth analysis, creative response tasks and tips on acting out the play. The first section of the book is an up-to-date study guide which explains the plot, characters, language and imagery in detail, with visual diagrams and links to relevant websites. The final section of the book contains an exhaustive explanation of how to write top grade essays on the play, including sample A* answers as well as summaries of significant literary criticism. There are plenty of pointers to help students develop their own personal responses, including thought-provoking thematic questions.
This book covers the following areas in depth:
It checks basic understanding by providing fill-in-the-gaps exercises on every important part of the play.
It looks at why students should study 'Romeo and Juliet'.
It examines Shakespeare's story, looking at the structure & themes: love, hatred and the feud, fate and the use of time.
It discusses the contexts (the background) of the play: its different versions, including Brooke's poem upon which the play is based, Nashe's 'Have With You to Saffron Walden' (1596)and 'A Midsummer's Night Dream'.
It investigates the nature of Shakespearean tragedy, discussing the rules Aristotle set out for this genre.
It explores the world of Shakespeare's theatre and The Globe, discussing social and political contexts.
It provides an overview of various productions of 'Romeo and Juliet'.
It contains a detailed section on Shakespeare's language, examining his imagery and grammar, exploring his use of nouns, verbs, adjectives and adverbs.
It contains a very helpful section on his use of rhythm and rhyme, setting exercises which will help students really understand this complex subject.
There is a long section on his use of characterisations, discussing all the main characters in depth.
As well as the play itself and a very accessible modern translation of it, there is a detailed summary of every act and scene.
There's an excellent glossary of all the difficult words, including vocabulary students need to learn.
There are a number of speaking and listening activities that are very easy to do and really aid understanding.
There is a readable account of the literary criticism of the play which looks at feminist, Marxist, cultural materialist and queer theory approaches to the text.
There is a detailed account of how to write a good essay on the play which includes a dissection of sub-standard essay and an example of an A* essay.
Finally, there is a section which helps students compare the play with filmed versions & performances.