'Learning Matters' by Roger Titcombe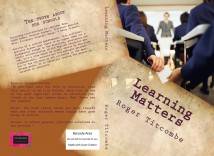 What leading academics are saying about the book:
"This is a crucial time for English education. Teachers are burdened with an unsettling and ultimately destructive culture of command and control that has persisted for more than two decades. Roger Titcombe provides a critical and penetrating overview of these matters, while offering robust and well researched proposals on how the fundamental issues can be addressed. This book gets to the heart of the problem and deserves to be widely read, not just by educationalists, but also by parents and all those who are concerned by the current state and direction of the English education system." Maurice Holt, Emeritus Professor of Education, University of Colorado, Denver.
"There are many parts of this book that I embrace whole heartedly and other parts I disagree with, but all of it I find stimulating. It offers a fresh, challenging, well researched and well argued approach to the question of what makes for a successful education. Parents, teachers, educationalists and – most of all, politicians – should all read it." Peter Saunders, Emeritus Professor of Sociology, University of Sussex (also Professorial Fellow at Civitas).
"The GCE O-grade was achieved by less than 20% of the whole population. Yet now more than 50% of the population gets C-Grade GCSE. Are standards really rising or is this an illusion? If teaching-to-the-test undermines understanding, then what kinds of learning promote cognitive development and hence better understanding? Titcombe addresses this question and also analyses the success of Mossbourne Academy to argue how the whole school system should be reformed, rejecting both the right and the left wing establishment in the process. This is some achievement." Michael Shayer, Emeritus Professor of Applied Psychology, King's College, London.
This book argues that there is an urgent need for a fundamental change in the direction, governance and public accountability of the English education system. This is a view that is widely shared by education professionals, teachers and increasingly parents, but it has not been at all reflected in the mainstream media.
There are a number of things that make Roger Titcombe's polemical guide so unique. It is written by a teacher but it is not exclusively for teachers, although many will find it essential reading. It combines gritty, no-nonsense analysis with powerful personal stories that show beyond doubt that a toxic cocktail of factors have poisoned our school system.
Roger Titcombe says: "If it contributes in even the smallest way by clarifying what is really meant by 'good education' and in bringing about the necessary changes, I will be very happy."